Recruitment of IT Specialists
The rise of the digital era has reshaped industries, driving a soaring demand for adept IT personnel. At Gubanova, we recognize the multifaceted needs of the tech world. Our expertise lies not only in general recruitment but specifically in the meticulous selection of IT personnel, ensuring that businesses harness the power of technology efficiently and innovatively.
The Essence of Specialized Selection of IT Personnel
Adapting to Rapid Evolution
With the tech landscape undergoing constant transformation, our focus remains on staying updated. This ensures our selection of IT personnel is always in tune with current and emerging technologies.
Catering to Specific IT Skill Sets
General recruitment doesn't suffice when it comes to tech roles. Our processes in the selection of IT personnel drill down to the specifics, be it Cloud Computing experts, Blockchain developers, or AI specialists.
Synchronizing Cultural and Technical Compatibility
Beyond the binary of coding, the synergy of tech teams rests on shared values and goals. Our selection procedure weighs cultural fit as heavily as technical prowess.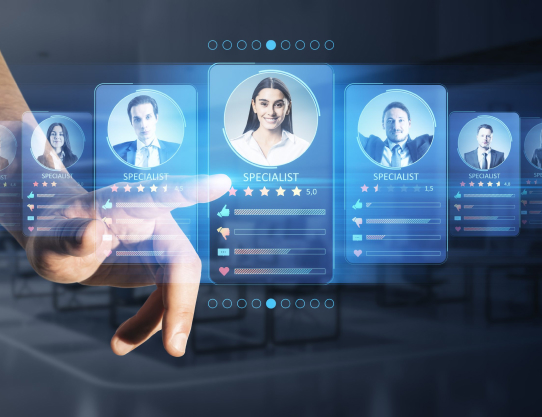 Our Pioneering Services in IT Recruitment
Tailored IT Personnel Search - Using a blend of our expansive database, industry connections, and the latest AI-driven search tools, we pinpoint professionals that resonate with your exact needs.
Stringent Skill Validation - Our selection of IT personnel isn't just about scanning resumes. Candidates undergo rigorous technical assessments to validate their expertise and familiarity with contemporary IT trends.
Comprehensive Recruitment Process - From drafting detailed job profiles to conducting multiple rounds of interviews, our end-to-end selection process ensures you get the best fit without the hassle.
Smooth Onboarding - We believe the selection of IT personnel culminates in their successful integration. Our post-recruitment support ensures IT recruits transition smoothly into your organization.
Empowering IT Professionals
Access to Varied Opportunities — With us, IT professionals can explore roles across diverse sectors, be it in agile startups, global tech giants, or traditional businesses embracing digital transformation.
Pioneering the IT Recruitment Landscape